adelmayer® Damascus boning knife 16cm hand-ground and with walnut handle (Kopie)
Out of stock
Notify me when it becomes available

adelmayer's Promise of Quality
To make the decision to buy a little easier, we take the risk completely on ourselves and give you a promise. If for some reason you don't like something, you will get your money back, as long as the product is in original condition. Up to 30 days after your purchase!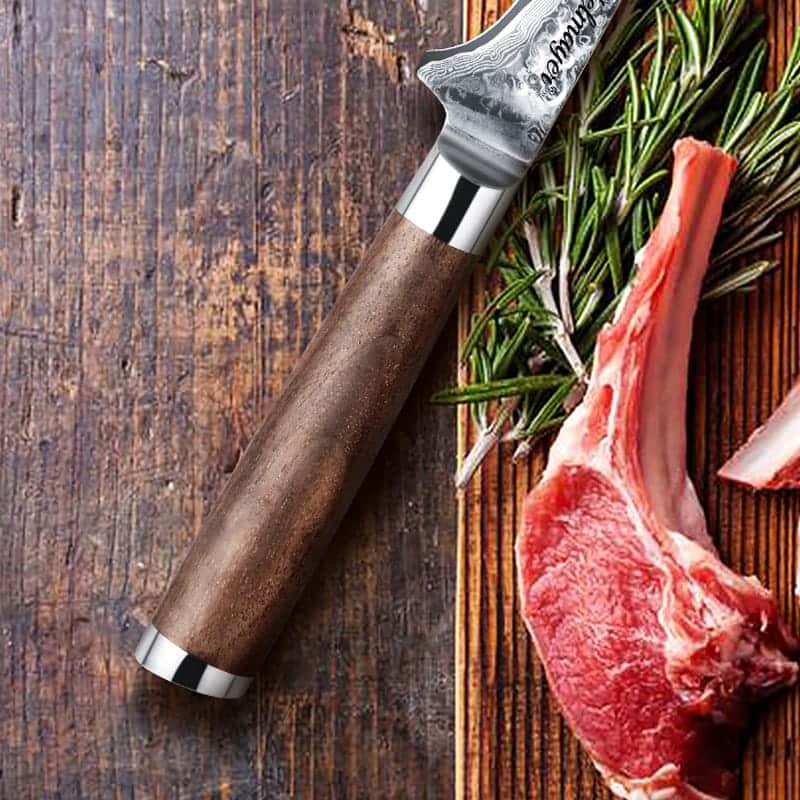 Time for the important things
The ergonomic handle and sharp blade make cutting a breeze, leaving you more time for your guests and other important tasks.
Maximum user comfort
Cutting ecstasy at its best: Our knife fits particularly well in the hand and allows you to work safely and comfortably without frustration.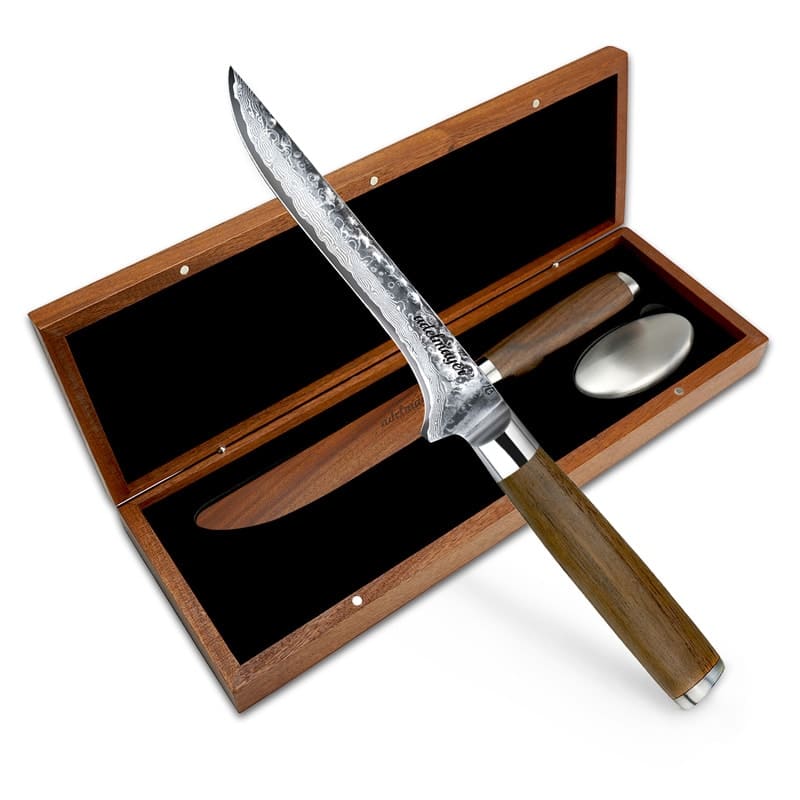 Storage box
Don't store your knife just anywhere, give it a place of honor – our classy, high-quality storage box.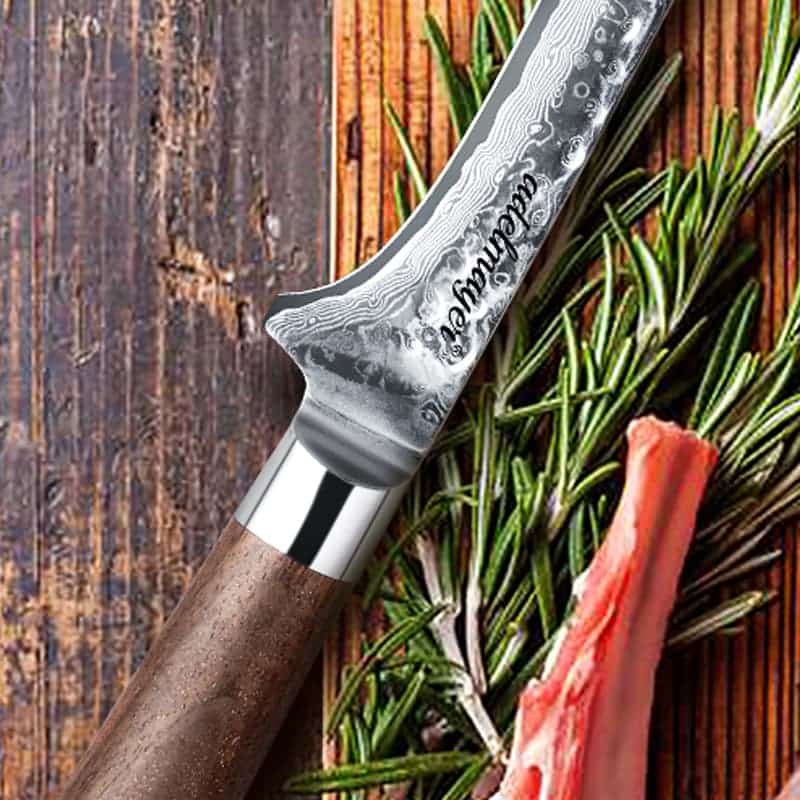 Japanese steel
Through the best Damascus steel and great expertise in the development, we offer you an unparalleled knife.
Details of the Damascus boning knife from adelmayer
Additional information
| | |
| --- | --- |
| Steel | Japanese 67-layer VG-10 Damascus steel |
| Rockwell hardness | 60 +- 2 |
| Overall length | 30,0 cm |
| Blade length | 16 cm |
| Blade width | 3,3 cm |
| Blade thickness | 2,0 mm |
| Weight | approx. 162 g |
| Handle length | 14 cm |
| Handle width | 2,5 cm |
| Knife handle | Walnut wood |
All info about the adelmayer Damascus boning knife
So that you can free your meat from bones, tendons and fat with as little loss as possible, there is the adelmayer Damascus boning knife for you! This boning knife made of Damascus steel is particularly sturdy and with its pointed, curved blade can reach even the most difficult places. This way, you can remove the bone from the meat like a pro. So if you're an expert boner or would like to become one, you should always have your Damascus boning knife on hand. Here you can order your Damascus steel boning knife online.
Advantages of your damascus boning knife
Directly ready for use in private households
Application in hunting
Belongs to the high quality equipment of a knife collection
Perfectly suitable professional and hobby cooks
Perfectly suitable professional and hobby grillers
What is a boning knife?
A boning knife is needed to cleanly remove bones, tendons and fat from the meat, thus resulting in as little meat loss as possible. Due to the slim, narrow and pointed blade, a boning knife can also reach places that would be impossible to reach with a standard knife. Likewise, it is very maneuverable and can also cut in small radii.
What makes a Damascus boning knife so special?
The difference from the normal boning knife
The Damascus boning knife from adelmayer has a special shape and a razor-sharp blade. In addition, the high-quality materials used make the adelmayer Damascus boning knife a perfect product, which should not be missing in your personal knife collection.
Blade shape/length
The curved blade, the pointed knife tip and a blade length of 16 cm make the adelmayer Damascus boning knife the Ferrari among boning knives.
Sharpening
Hand-ground, the blade of the adelmayer Damascus boning knife reaches the maximum degree of sharpness. So you can easily and effortlessly separate the meat from the bones and free your meat from vision and fat.
Sharpness, hardness, material
Due to the fire-welded Damascus steel, the boning knife from adelmayer receives a Rockwell hardness grade of 60±2. The razor-sharp blade combined with the walnut wood handle ensures a classy boning knife.
Handling
The adelmayer Damascus boning knife offers you the highest comfort of use. The materials used allow you to work safely and comfortably and finally ensure a clean work.
Handle
With the ergonomically shaped walnut handle, your Damascus boning knife from adelmayer fits securely in your hand. So, nothing stands in the way of safe use.
Applications of the adelmayer Damascus boning knife
An adelmayer Damascus boning knife belongs in every well-equipped kitchen – whether private or commercial! In the future, boning your pieces of meat will even be fun and speed up the process noticeably. Due to the hand-ground blade and the ergonomically shaped handle, you apply only the minimum amount of force when boning. Wherever large pieces of meat need to be separated from bones, or vision and fat removed, a boning knife is the perfect and fast helper for your activities. Accordingly, a Damascus boning knife, in addition to the private household, is also used in hunting.
Boning with the adelmayer DeMarcus boning knife
Boning with the Damascus boning knife saves valuable time! With the curved and pointed blade, you separate the meat from the bone with little loss. The sharp blade ensures that you only need a small amount of force. We recommend that you always cut away from the body with the adelmayer Damascus boning knife to prevent injuries.
Delivery of the adelmayer Damascus boning knife
To protect your adelmayer Damascus boning knife from damage in transit, we send it to you in the practical wooden storage box. Inside you will find the practical knife sheath, in which your boning knife will find the well-deserved rest between uses. To ensure that you have years of fun with your boning knife, you will also find a special stainless-steel soap and a care cloth in the box.
This is what cooking school owner Timo says about our knife
Experience adelmayer® – the perfect cut for every meat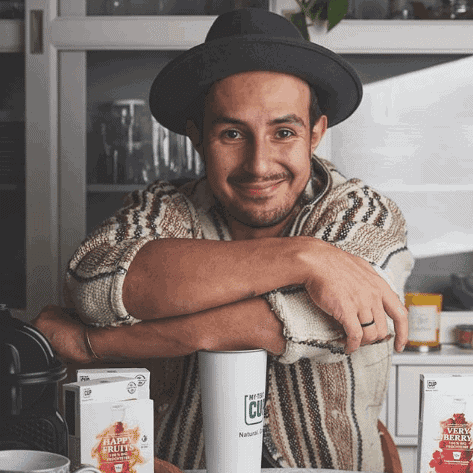 Alex Villena
I have been using the knives from adelmayer for more than 2 years. Before that I had already tried various knives and had never found the right one for me. Here is simply the best of everything combined. Since I am professionally several hours a day in the kitchen I am dependent on a sharp and reliable knife. adelmayer has never let me down here. An absolute heart recommendation.
Timo Siegmann
The damascus knives from adelmayer are an important companion in my kitchen at every event catering, but also at my cooking school. Every cut is a real pleasure thanks to the sharp blade. The company adelmayer is an important partner for me, which I gladly recommend for hobby and also for professional chefs.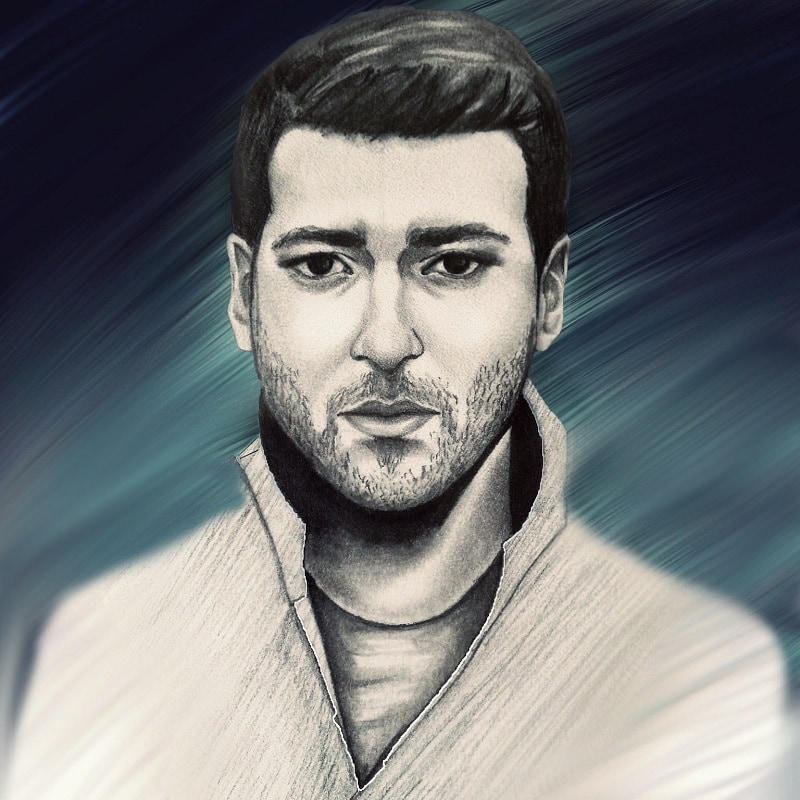 Ümit Memisoglu
In the kitchen, where I spend a lot of time cutting food, I no longer want to miss the products from adelmayer, which I have firmly integrated into my everyday cooking. The knives look classy, fit well in the hand and are so sharp that they make my work much easier.
Quality is important to me not only in terms of my videos, but also when it comes to my work tools.