adelmayer® Diamond honing paste set of 4
✔️ Excellent sharpness: Depending on the grain, razor-sharp blades are possible due to the tiny diamond particles.
✔️ Particularly economical: Even small amounts of paste are sufficient to prepare the honing leather.
✔️ Gentle sharpening: Sharpening pastes produce less wear and extend the life of your cutting tools.
✔️ Grit: The grit of the diamond particles in the paste determines the degree of sharpening. A higher grit means a finer sharpening. It is important to choose a grit that is suitable for the knife or tool you are sharpening.
✔️ Areas of application: The diamond honing paste can be used for various knives, tools and materials.

adelmayer's Promise of Quality
To make the decision to buy a little easier, we take the risk completely on ourselves and give you a promise. If for some reason you don't like something, you will get your money back, as long as the product is in original condition. Up to 30 days after your purchase!
Sharpen your tools like a pro – with our premium diamond honing paste
You surely know how annoying it is when your knives, scissors or other tools lose their sharpness. Dull tools can not only make cutting or slicing difficult, but can also lead to injuries. The solution to this problem is simple – a high-quality diamond honing paste. With this special abrasive paste, you can sharpen your tools quickly and precisely so that they are like new again.
What exactly is diamond honing paste, and how is it applied?
Diamond honing paste is an abrasive paste consisting of fine diamond particles and binders. This combination creates an abrasive mass that removes dirt and irregularities from the cutting edge. Unlike other abrasives such as whetstones or sandpaper, diamond particles are harder and more durable. Therefore, they are ideal for sharpening tools that are used regularly and subjected to high stress.
A high-quality diamond honing paste offers several advantages over other abrasives. Firstly, it is very durable and can be used many times before it needs to be replaced. Secondly, it is very effective and can produce good results even on hard or difficult-to-sharpen tools. Furthermore, using diamond honing paste is easy and does not require any special knowledge or skills.
For sharpening with honing paste, you need a honing leather. The diamond honing paste is simply applied thinly to the honing leather and spread with your finger. To help you keep track of which side has which grit, the four sides of the honing leather are numbered.
We recommend applying the coarsest grit to side 1 and the finest to side 4.
Side 1: 2000 grit (2.5 microns)
Side 2: 6000 grit (1.5 microns)
Side 3: 8000 grit (1 micron)
Side 4: 16000 grit (0.5 microns).
Perfect sharpness in seconds – with our premium diamond honing paste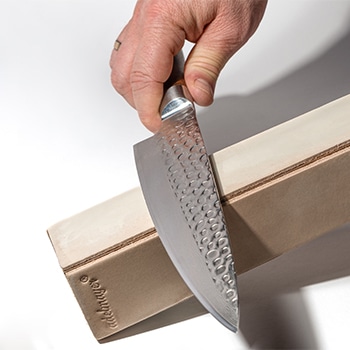 Sharp tools, fast and effective: Diamond honing paste as the perfect solution
Do you still sharpen your tools with grinding stones? With our diamond honing paste, you can keep your tools very sharp. Convince yourself of the simple and effective handling, and make sure that your tools are always ready for use.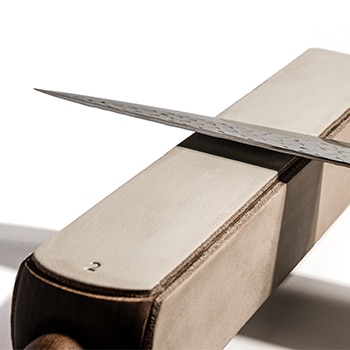 Effective sharpness without much effort: the advantages of diamond honing paste
With our high-quality diamond honing paste, you can achieve effective sharpening of your tools without much effort. The long-lasting diamond particles remove dirt and irregularities quickly and precisely.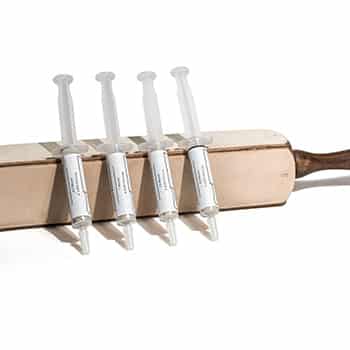 High-quality abrasive for a professional application
Our premium diamond honing paste is perfect for professional use. With its excellent abrasive effect and long-lasting quality, you will achieve the best results when working on knives and other materials. Try it out and see for yourself!
Easy application for excellent results
The diamond honing paste is easy to use and still offers excellent results. Whether you want to work on a tool or any other material, our paste guarantees an efficient and precise grinding effect.
Get the best out of your tool – with our long-lasting diamond honing pastes
Made from high-quality diamond particles for fast and effective sharpening.
Suitable for various tools such as knives, scissors and more
Easy to apply and durable in use
High removal rate for fast results
Comes in a convenient tube for clean and easy application
experience adelmayer® – Perfect cut for every meat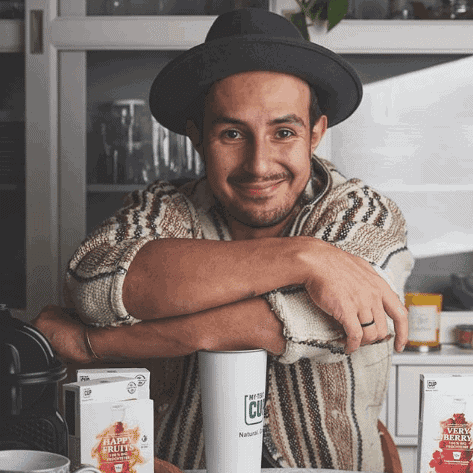 Alex Villena
I have been using the knives from adelmayer for more than 3 years. Before that I had already tried various knives and had never found the right one for me. Here is simply the best of everything combined. Since I am professionally several hours a day in the kitchen, I am dependent on a sharp and reliable knife. adelmayer has never let me down here. An absolute heartfelt recommendation.
Timo Siegmann
The damascus knives from adelmayer are an important companion in my kitchen at every event catering, but also at my cooking school. Every cut is a real pleasure thanks to the sharp blade. The company adelmayer is an important partner for me, which I gladly recommend for hobby and also for professional chefs.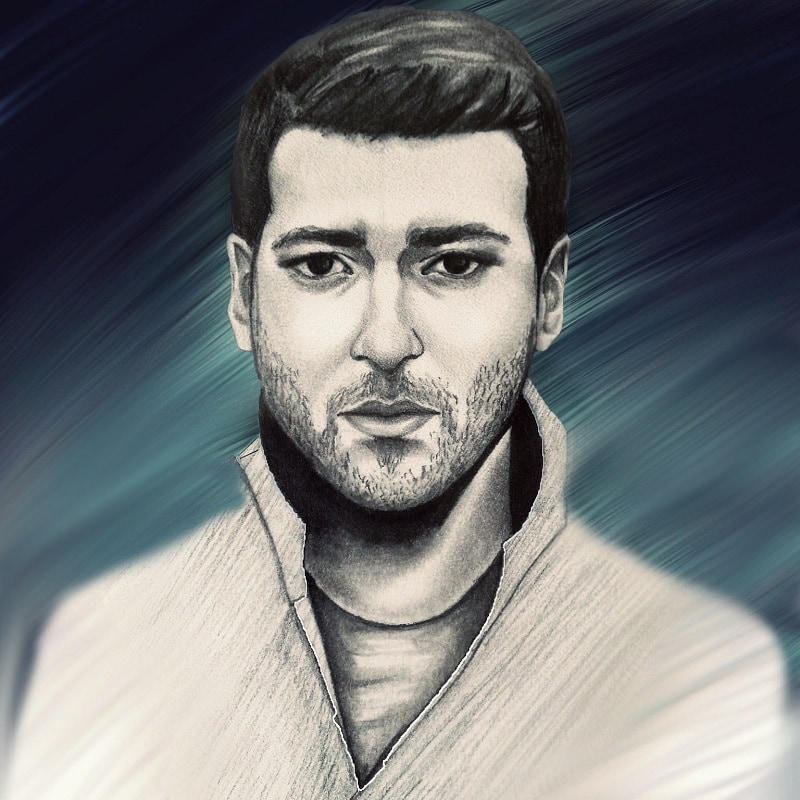 Ümit Memisoglu
In the kitchen, where I spend a lot of time cutting food, I no longer want to miss the products from adelmayer, which I have firmly integrated into my everyday cooking. The knives look classy, fit well in the hand and are so sharp that they make my work much easier.
Quality is important to me not only in terms of my videos, but also when it comes to my work tools.