adelmayer® diamond spray set of 4
✔️ Grit size: An extremely fine grit size for extremely sharp results: Various grit sizes (up to 32000 grit) allow particularly convincing results when sanding.
✔️ High-quality sanding spray: This high-quality diamond emulsion contains a sufficient amount of
✔️ Speed: Immediately absorbs into the leather. The result: time saving because you can start immediately after spraying.
✔️ Simplicity: The spray head of the polishing spray allows for an even and fine spray. This results in a controlled and precise application.
✔️ Compatibility: The polishing spray is compatible with the materials to be sharpened and does not cause any damage or discolouration on the surface of the workpiece.

adelmayer's Promise of Quality
To make the decision to buy a little easier, we take the risk completely on ourselves and give you a promise. If for some reason you don't like something, you will get your money back, as long as the product is in original condition. Up to 30 days after your purchase!
Ideal combination
Perfect for out leather strops
OUTSTANDING RESULTS
Achieve unparalleled sharpness
Details of the adelmayer diamond spray
Revolutionise your grinding routine with our diamond grinding sprays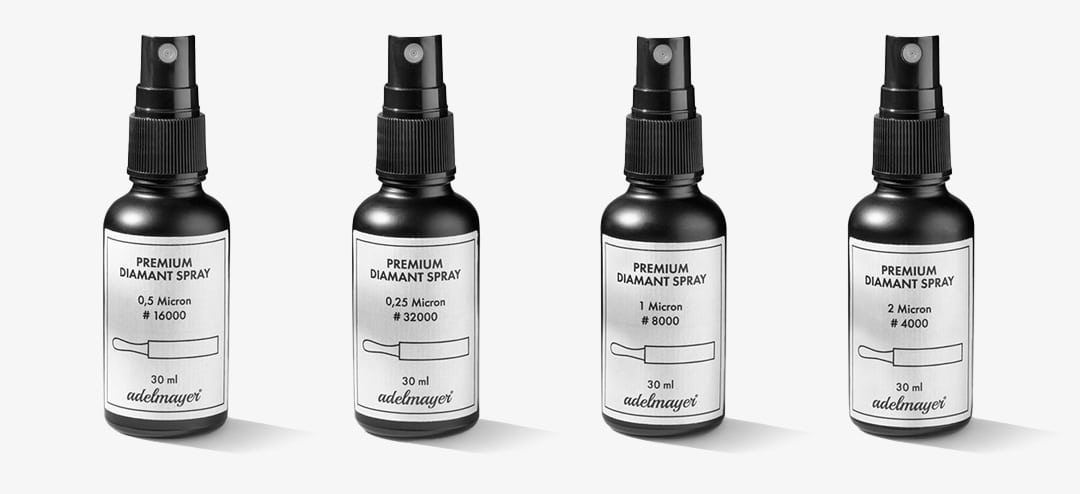 Brilliant results: the ultimate diamond grinding spray for perfect results
The
diamond sharpening spray
from adelmayer is an indispensable addition for every knife sharpener and DIY enthusiast. It is available in various grit sizes to meet different requirements. It is specially designed to work on a variety of materials.
The abrasive spray is formulated with synthetic diamonds and special binders to provide a fast, efficient and precise grinding action. With a fine-grained structure, the spray allows for a smooth and even removal of surfaces and a fine polish.
If you want to sharpen your knives and razor blades, the diamond sharpening spray is the perfect addition to your sharpening system. It is ideal in combination with a honing leather, leather belt, honing stone, abrasive leather and other sharpening tools. With the diamond sharpening spray, you can effectively sharpen and polish razor blades and knives to achieve optimal sharpness and smoothness.
In addition, the diamond abrasive spray is also suitable for working on tools and other objects made of metal and other materials.
Try it and experience the benefits of a high quality diamond abrasive.
Professional results with ease thanks to high-quality diamond abrasive spray
Product details:
Versatile abrasive for various materials.
Fast and efficient abrasive action with synthetic diamonds.
Fine-grained structure for gentle removal and polishing.
Available in different grit sizes for individual requirements.
Ideal for knives, razors and cutting tools.
Durable abrasive for long service life.
Compatible with honing leather and leather belts.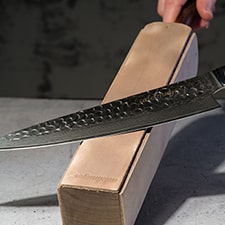 Perfect for knives, cutting tools and other tools.
Sharp, sharper, sharpest with honing leather and diamond spray. Take your knife sharpening up a notch and discover our adelmayer® diamond spray. It will make your blades sharper and your cooking even more fun.
With its versatile application and fast sharpening action, you can create a sharp edge on your tools and ensure optimum performance.
Whether for professional craftsmen or home use, a diamond sharpening spray is an indispensable tool for sharpening your tools quickly and effectively.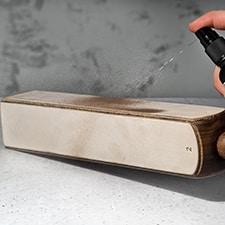 Quick and effective sanding for a smooth surface
With our spray, you can quickly and effectively achieve a smooth surface on various materials.
Thanks to its strong sanding effect and easy application, the sanding spray is a practical solution for anyone who wants a quick sanding finish.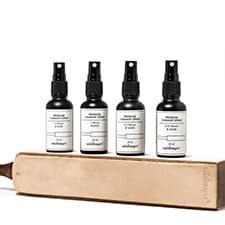 High-quality abrasive for professional use
Our high-quality abrasive is ideal for professional use and offers optimum performance when sanding.
The fine grit of the abrasive enables precise and efficient sanding to achieve a perfect finish.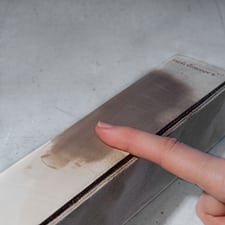 Easy application for fast results
The sanding spray is easy to use and gives quick results when sanding.
Simply spray on and rub in with your finger to achieve the desired finish.
The sanding spray is ideal for anyone who wants to achieve a smooth and even surface quickly and easily.