adelmayer® Damascus knife set KAMAKURA – 3-piece knife set made of Japanese Damascus steel: Kiritsuke knife, all-purpose knife & paring knife
✔️  Damascus knives: 3 high-quality Damascus knives from the KAMAKURA chef's knife set, 67-layer steel from Japan, special hardness (HRC 60 ± 2), stability, resistance
✔️ High-performance steel: Each knife is made of Japanese Damascus steel (blade length: 21.2, 13 & 7.5 cm) and a noble handle made of walnut wood – ergonomically shaped and comfortable in the hand.
✔️ Accessories: In the kitchen knife set KAMAKURA we have put together 3 popular adelmayer knives in a discounted set – incl. wooden sheath, box, soap & care cloth for each knife.
Out of stock
Notify me when it becomes available

adelmayer's Promise of Quality
To make the decision to buy a little easier, we take the risk completely on ourselves and give you a promise. If for some reason you don't like something, you will get your money back, as long as the product is in original condition. Up to 30 days after your purchase!
Knife set KAMAKURA: 3 high-quality chef's knives made of Japanese Damascus steel
These 3 classic types of knives are part of the basic equipment of every kitchen:
A multifunctional Kiritsuke kitchen knife with a wide blade for the larger cutting jobs and
a narrow, long all-purpose knife as an all-rounder for cutting meat, fish and vegetables,
a small, handy knife with a short blade for peeling fruits & vegetables, especially potatoes, apples and carrots.
And no matter how different the knives are in size and shape, they have a few things in common:
Blade made of Japanese VG-10 Damascus steel (67 layers)
Extreme sharpness & hardness (HRC: 60±2)
Handle made of sturdy walnut wood with natural grain
Classy accessories: wooden knife sheath, stainless-steel soap, care cloth & wooden casket
High resistance to dirt, rust and wear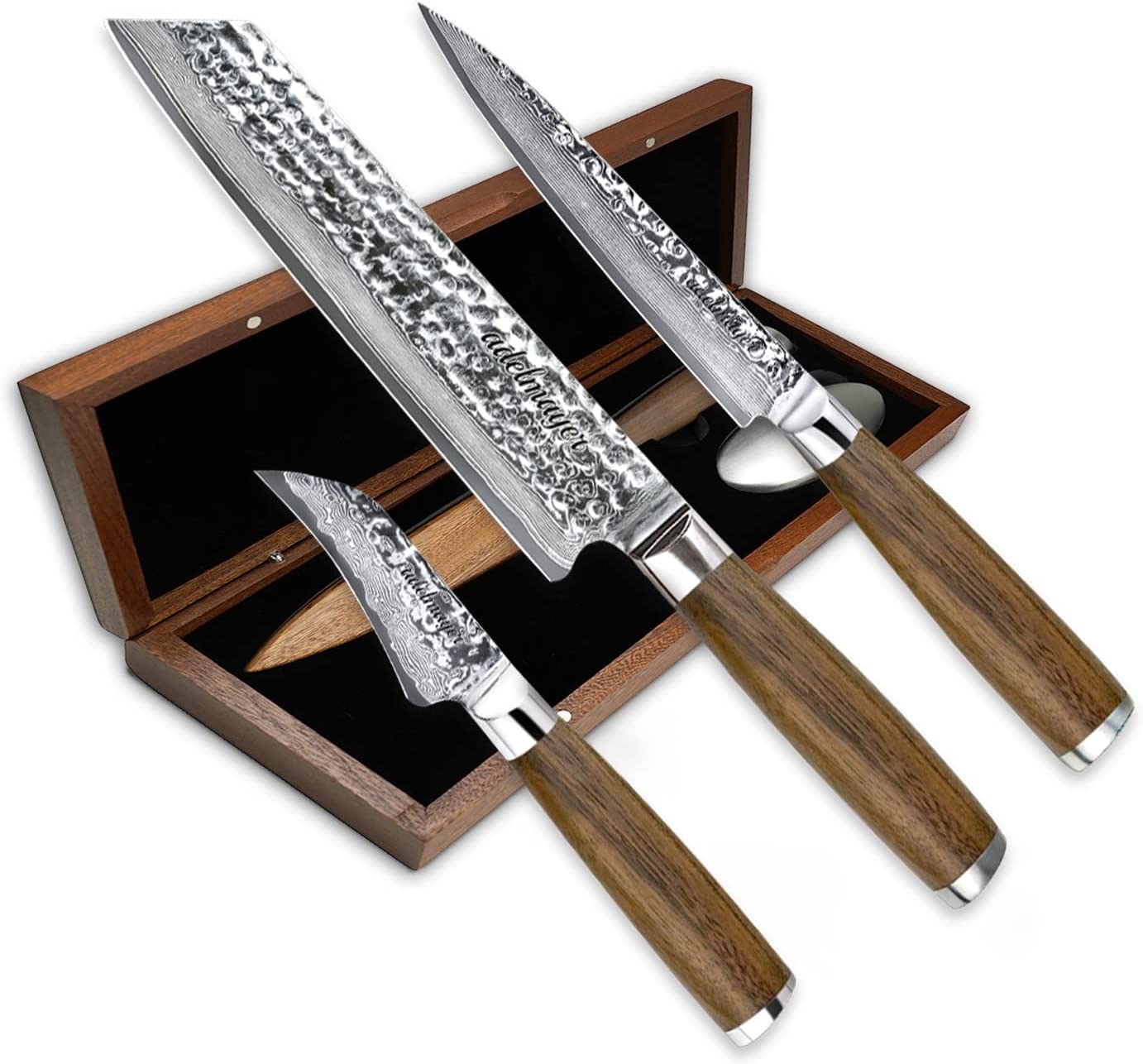 The most important product features at a glance
Set of 3 adelmayer Damascus knives:
1x Kiritsuke knife: overall length: 35 cm, blade length: 21.2 cm, blade width: 4.5 cm, handle length: 13.8 cm, weight: approx. 236 g
1x All-purpose knife: overall length: 24.6 cm, blade length: 12.8 cm, blade width: 2.2 cm, handle length: 12.8 cm, weight: approx. 97 g
1 x Paring knife (bird's beak) : Total length: 19.5 cm, blade length: 7.5 cm, blade width: 2.5 cm, handle length: 12 cm, weight: approx. 93 g
incl. wooden box and accessories for each knife
This is what distinguishes our adelmayer knives: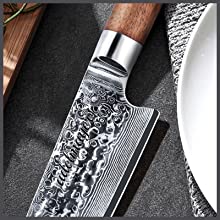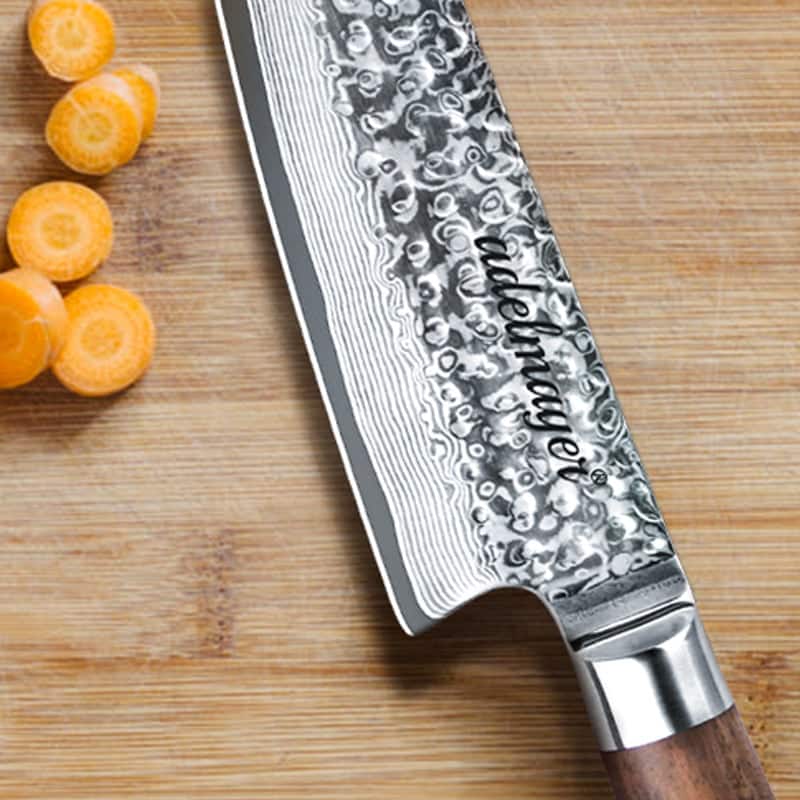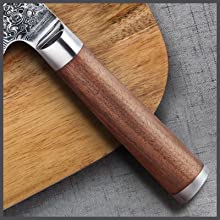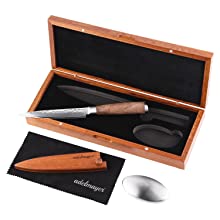 Japanese steel
67 layers of genuine Damascus steel from Japan make for a tough and durable sharp blade that is second to none.
Carefully processed
In the development and manufacture of the knives, we have placed great emphasis on the stability and durability of the raw materials – so that you can enjoy your knives for a long time.
Highest comfort
Thanks to the ergonomic handle made of durable walnut wood, the knives fit comfortably in your hand and allow you a precise and safe cutting experience.
Classy storage
Whether for safe transport, for storage or as gift packaging: In the high-quality wooden box each knife gets a place of honor.
adelmayer – Damascus knives for every use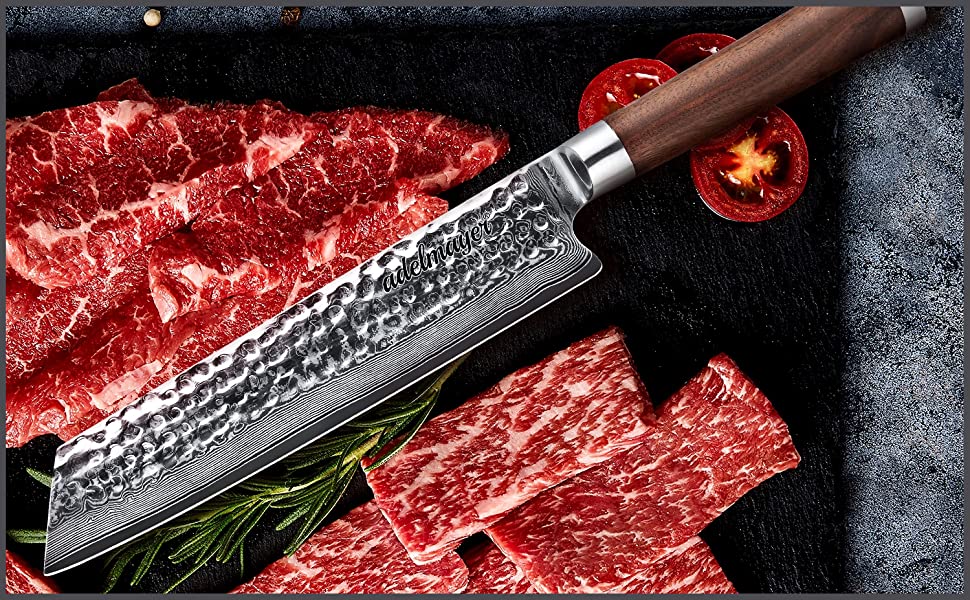 Premium quality in your kitchen
adelmayer is a German company based in Solingen. Our focus is on premium knives made of Damascus steel with a distinctive look and the highest quality.
We want to enrich your everyday life with distinctive products and thus give your home and kitchen individuality and elegance.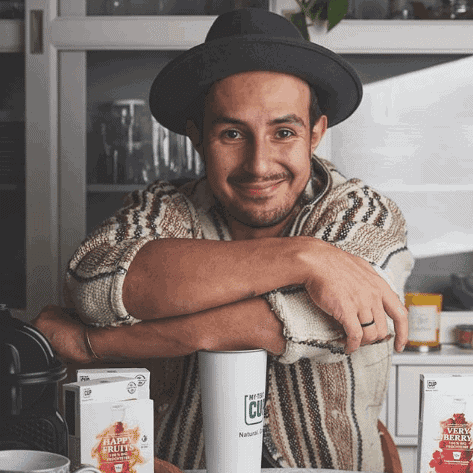 Alex Villena
I have been using the knives from adelmayer for more than 3 years. Before that I had already tried various knives and had never found the right one for me. Here is simply the best of everything combined. Since I am professionally several hours a day in the kitchen, I am dependent on a sharp and reliable knife. adelmayer has never let me down here. An absolute heartfelt recommendation.
Timo Siegmann
The damascus knives from adelmayer are an important companion in my kitchen at every event catering, but also at my cooking school. Every cut is a real pleasure thanks to the sharp blade. The company adelmayer is an important partner for me, which I gladly recommend for hobby and also for professional chefs.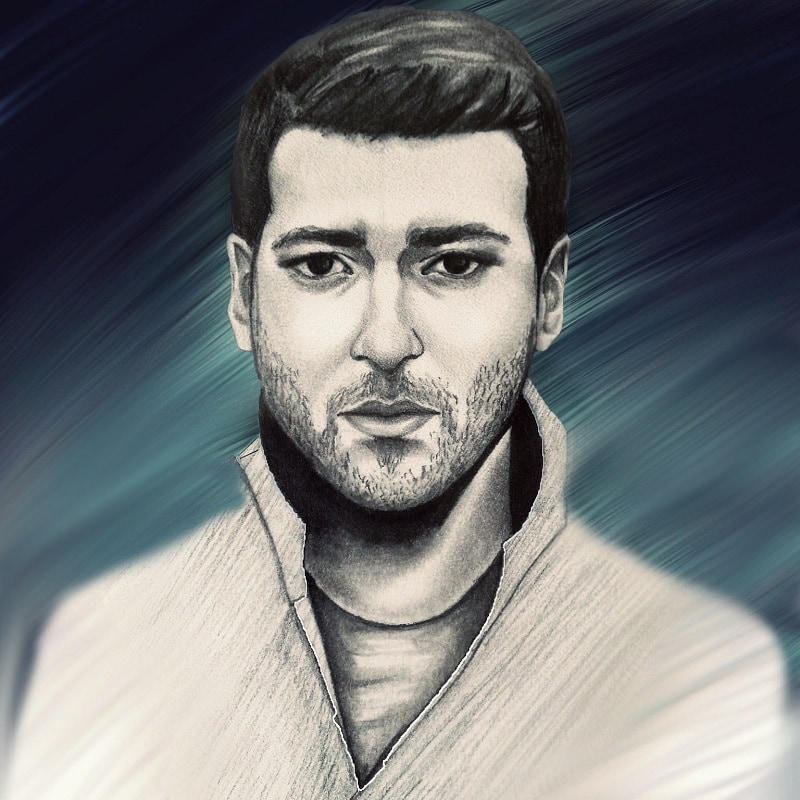 Ümit Memisoglu
In the kitchen, where I spend a lot of time cutting food, I no longer want to miss the products from adelmayer, which I have firmly integrated into my everyday cooking. The knives look classy, fit well in the hand and are so sharp that they make my work much easier.
Quality is important to me not only in terms of my videos, but also when it comes to my work tools.