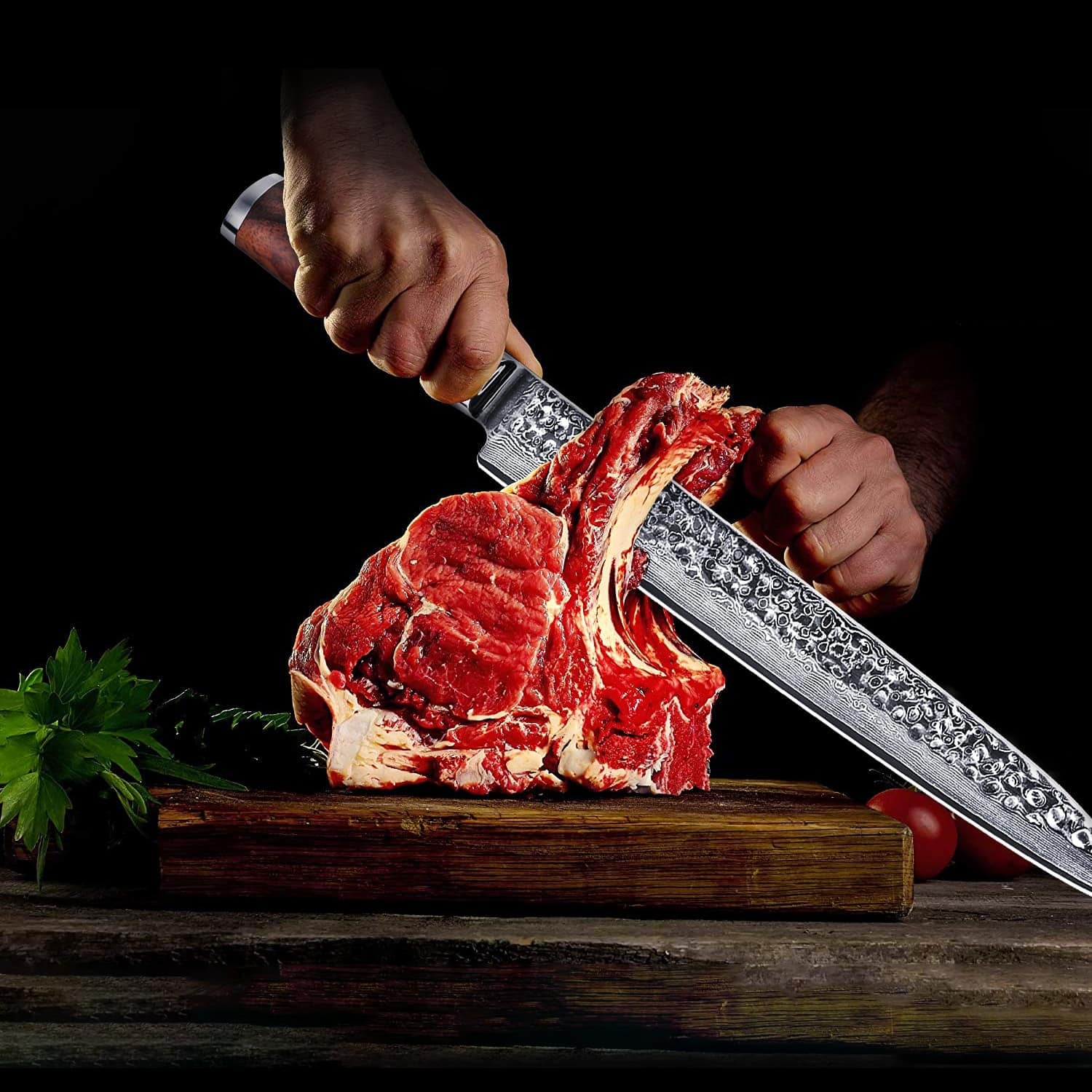 What are the different types of knives?
The market today has a wide variety of knives to offer and it is not always easy to discover something suitable for yourself. No wonder, because for fruit, vegetables, for baked goods, bread and meat, each time a different knife is needed to enjoy the best possible results and the highest possible comfort of use. Of course, all of them are available in different qualities and from various brand manufacturers, although we also have some knives on offer, which all inspire with quality and comfort. While some knives should be part of the basic equipment of every household, there are in turn knife models that are simply luxury, possibly used mainly in the catering industry or but are indispensable for the hobby chef. In this article we want to introduce the different knives in more detail.
Our knife encyclopedia:
All-purpose knife – a real all-rounder
The all-purpose knife is definitely part of the basic equipment and should be found in every kitchen. This is a real all-rounder. Compared to many other types of knives, this one is quite small in design. The blade length is between 10 and 15 cm and is sharpened from both sides. These knives have a medium pointed blade, which makes this good piece almost perfect for a variety of work in the kitchen. For example, fruits and vegetables can be cut with the all-purpose knife, and even smaller pieces of fish and meat usually pose no problems. In addition, the all-purpose knives are also suitable for cleaning vegetables and fruits. Some people use the all-purpose knives additionally for chopping.
Boning knife – perfect for meat work
The boning knife is very widespread, especially in the catering industry, and should not be missing from the knife collection of any amateur chef. Unlike other knives, the boning knife has a fairly wide and very robust blade. Even though this blade is very robust, too much pressure when using it should be avoided in any case, otherwise it could be damaged. The boning knife is mainly used to remove the meat from the bone. For this purpose, the tip of the knife blade, which is pointed, is run along the bone, so that subsequently the meat can be effortlessly detached from it. Unlike other knives or ways to separate the meat from the bone, the boning knife does not damage the meat structure in any way. The blade of these knives, depending on the model, is sharpened either on one side or on both sides, which makes it possible to separate even the skin or tendons from the meat. A purchase by people who like to eat a lot of meat is therefore definitely recommended.
The roasting fork – The turkey can come
Even if we are talking about a fork here, it is the counterpart par excellence to the carving knife and should definitely be present as well. Together, both pieces of cutlery are used exactly when meat is to be carved again. Especially with turkey, carving is very well known, such as Thanksgiving in America or Christmas with us in Germany. So every now and then there are larger poultry roasts, where roasting fork and carving knife are used to optimally take apart both cooked and raw meat.
The bread knife
The bread knife is also part of the basic equipment of a kitchen and is characterized by a special saw or serrated edge. Furthermore, this knife has a particularly long blade. The special grind on these types of knives creates a significantly larger total cutting surface, which makes it possible to cut even crusty bread or very soft bread without any problems. In contrast to the kitchen knife, these bread knives make it possible that the slices of bread are not crushed in any way during cutting and also the strong crumb formation no longer occurs. Due to the fact that the teeth of the bread knife touch the base, this is a type of knife that stays sharp for a nice long time. However, the resharpening is very complicated and should therefore be done in any case by a professional, although the grinding is rarely necessary due to the long sharpness of the blade.
The Bunka knife
Bunka knife is a classic Japanese chef's knife, which is mainly used for various cutting tasks. This type of knife can be used to perform a wide range of tasks, such as cutting small items. Onions and the like, for example, can be cut wonderfully due to the very pronounced knife tip as well as the rather flat cutting edge profile, which also applies to other foods. For this reason, the Bunka knives are also used for ornaments. Furthermore, users can use the tip to cut out the tendons in meat well. This type of knife is particularly well suited for "pushing" cutting as well as for chopping, but for weighing cuts rather less due to the flat cutting edge profile.
The Deba knife
The Deba knife is characterized by its strong and heavy blade. This type of knife has a wide blade back and a single-edged blade. The blade length of the Deba knife is usually between 12 and 24 centimeters, although the most common models with blades between 15 and 18 centimeters can be found on the market. Due to the special shape and its own grind, they are ideal for filleting meat. Thus, this Japanese knife guarantees a clean and uncomplicated cut. In addition to meat, the Deba knife is also used to cut fish, as it can also be used to cut bones without any problems, so that the fish can be cut open at the back or freed from the tail, for example. Depending on the model, it is also possible to chop bones with these knives. The Deba knives have quite a thick blade back and are very stable, exactly for these reasons, however, they are rather less suitable for dividing hard cut material, such as pumpkin. Due to the high blade thickness, the resistance is very high.
The filleting knife
The fillet knife is one of the most popular types of knives par excellence. This knife has a very long, but also very narrow blade, which can even be bent to a certain extent. The extremely sharp blade makes it possible to release razor-thin and optimally cut fillet pieces. For example, beautiful fish fillets can only be produced with an appropriate and high-quality filleting knife. Meanwhile, the filleting knives are available with both a pointed and a rounded knife tip. Furthermore, the filleting knives are often used to free the meat from the skin and also fruits and vegetables can be cut into very thin slices. In addition, this type of knife is best suited for removing the meat from the bones. However, fish preparation remains the main application of a filleting knife and will probably remain so in the future.
Small filleting knife
The small filleting knives are much more handy and can also be used in the normal kitchen by laymen without any problems to cut beautiful filleting pieces and is therefore also ideally suited for beginners. Women, too, with their smaller hands, usually get along better with small filleting knives. This is because fine work on fish and meat can also be carried out with the small filleting knife. Users can not only cut fillet pieces, but also remove skin and tendons from the meat.
Japanese hunting and outdoor knives
The Japanese hunting and outdoor knives are handmade from Shirogami steel, so each piece is truly unique. The damascus blade is particularly sharp, so this is the perfect companion. To keep the knife nice and sharp, the blade is protected by genuine leather from a Japanese cow.
The fruit and peeling knife
Fruit and peeling knives are very small and therefore also handy knives. Ground on both sides, this knife can easily cut fruit and vegetables. The knife blade itself is short and only six to nine centimeters long. In addition, the blade is built straight, which brings positive effects for comfortable use. Thus, even potatoes can be peeled quickly and cleanly.
The small all-purpose knife
The small all-purpose knives have a blade length between 9 and 12 centimeters. The knife blade is usually pointed. These knives can be used as real all-round talents in the kitchen and inspire with their compact and sharp design. These all-purpose knives can be used to cut various foods such as fruit and vegetables and can also be used to cut small pieces of meat. The small all-purpose knives are usually ground on both sides and can therefore be used comfortably by both right-handed and left-handed people.
The children's knife
Parents know the phenomenon – the little ones also want to grow up as soon as possible and do exactly what parents do. She also wants to cook and cut and with the right children's knives, this is finally possible. With normal knives, of course, there are different dangers, which parents should not be taken lightly in any case. Children's knives are provided with a round blade, which of course should prevent injuries. Children's knives are now available with many great and playful motifs, so that the eye also has something to look at.
The chef's knife
The chef's knife is probably the most important knife par excellence and belongs to the all-rounders in every kitchen. Chef's knives come in different sizes. While in the typical kitchen the blade length is usually between 18 and 24 centimeters, professionals rely on larger knives whose blade lengths should be between 24 and 33 centimeters. Kitchen knives have a slightly wider and longer blade than typical utility knives. The Japanese gyuto also belongs to this type of knife and is similar to the typical chef's knife. The typical chef's knife can be used to process numerous foods. Thus, chopping herbs, cutting meat and fish, and slicing vegetables and the like into pieces are all no problem. Incidentally, chef's knives are usually ground on both sides.
The Santoku knife
Santoku knife is one of the typical all-purpose knives with a traditional blade shape. If you translate the name, Santoku means something like "three virtues", whereby in Japanese this means fish, meat and vegetables. The knife is about 17 centimeters long and is ideal for cutting these three ingredients without any problems. The blade of the knife is kept rather wide, which simplifies handling and significantly increases the comfort of use. Since this knife is sharpened on both sides, it is also ideal for beginners. The knife is particularly well suited for pulling cuts as well as pushing cuts and chopping vegetables. Weighing cuts, on the other hand, should not be made with this knife, although this depends on the cutting edge profile of the particular model. Thus, it is said that the flatter the knife itself, the less suitable it is for cradle cuts.
The Kurouchi knife
The Kurouchi knife is characterized above all by its design full of character. Translated, Kurouchi means "black forged" or "black striking". Due to the traditional finish, the user of this type of knife is offered many advantages. Since the reactivity of the carbon steel is reduced during the manufacturing process, these are knives that are less prone to rusting, unlike other models. In addition, polishing is also eliminated, which of course makes maintenance much easier.
The Nakari
The nakari is a traditional Japanese vegetable knife with a flat profile. The tip of these knives is rectangular, which makes pulling cuts work wonderfully. The blade of the Nakari is sharpened on both sides and has a fairly low blade thickness. Which ensures that the vegetables do not break when cutting. The blade lengths are very different, with this one being around 165mm. The blade width itself is around 50mm. A Nakari knife is usually very sharply ground, so as to cut cleanly through the vegetables when chopping. However, this makes the blades very sensitive, which means that these types of knives should not be used in any case for hard cut material, such as bones or bones.
The steak knife
The steak knives are especially popular among meat fans and are part of the basic equipment here. This knife copes with all types of meat and can easily and comfortably cut not only roasted, but also grilled meat of different thicknesses. Steak knives have a sharp blade, which is slightly curved upwards. Most steak knives have a blade length of about 12 centimeters, which is slightly longer than the normal cutlery knife. Here you have the choice between the steak knife with saw grind as well as without. A steak knife also has a very sharp blade, so that the meat can be easily cut through without destroying the fine meat fibers. This also means that the meat does not lose its juice unnecessarily, because the high-quality steak knife cuts the steak like butter.
The paring knife
A paring knife is small and has a curved blade. This makes it nice and handy. The blade itself has a length of six to eight centimeters. Thanks to the curved blade shape, it is perfect for peeling as well as cleaning. Furthermore, it is characterized by the fact that these knives are sharpened on both sides, which of course again benefits the ease of use.
The sushi knife
Sushi knives are provided with a long and narrow blade, which tapers towards the front. These knives are mainly used to prepare raw fish. This allows the finest slices and pieces to be cut from the raw fish, from which so-called finest sashimis or nigiris can be prepared in traditional Japanese cuisine. However, the sushi knife should be used specially. Thus, it is applied with a long cut, which runs pulling. Pressure is hardly necessary when using a knife with such a sharp blade. From a purely visual point of view, the sushi knife is very similar to the German fillet knife. In addition to fish, the sushi knife can also be used to cut and fillet meat without any problems.
The tomato knife
The tomato knife is known for its fine saw grind. The blade is serrated and tapers towards the front. Thanks to the individual teeth, a larger cutting surface is achieved. Even the tomatoes are no problem for this type of knife. Depending on your needs, not only the tomatoes can be cut into wafer-thin slices without anything being crushed. Furthermore, this knife can also be used for many other vegetables.
The carving knife
The carving knife is a particularly long knife, which is usually used in combination with the already presented carving fork. The blade is kept narrow and runs to a point. The blade length itself is usually between 15 and 30 centimeters and has a width of up to three centimeters. The blade is also slightly curved, with a slight indentation on the underside. The carving knife is mainly used to cut or divide roasts, poultry or larger pieces of meat. Furthermore, this type of knife can be used to cut wafer-thin slices from a roast beef.
If you are also looking for a great selection of high-quality knives that you can rely on and that always deliver what they promise, then you should take a look at our online knife store. Here you will find a wide selection of numerous knives and can order them conveniently online.