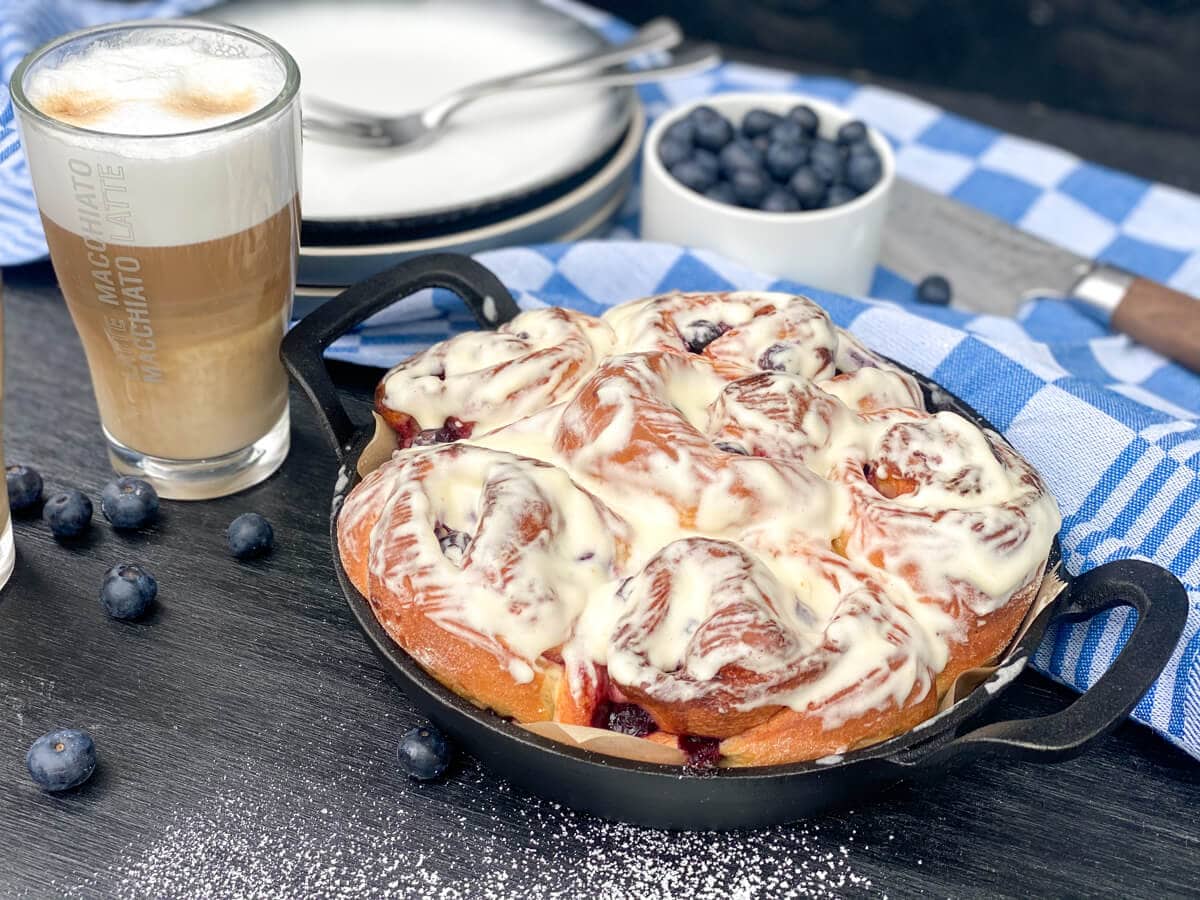 Blueberry buns
Dough:
300 g wheat flour type 550
15 g fresh yeast
1 pinch of salt
100 ml milk
1 egg
50 ml water
45 g sugar
30 ml olive oil (or butter)
Filling:
Blueberry / blueberry jelly or jam
150 g blueberries / blueberries
20 g brown sugar
Frosting:
20 g soft butter
50 g cream cheese
25 g sifted powdered sugar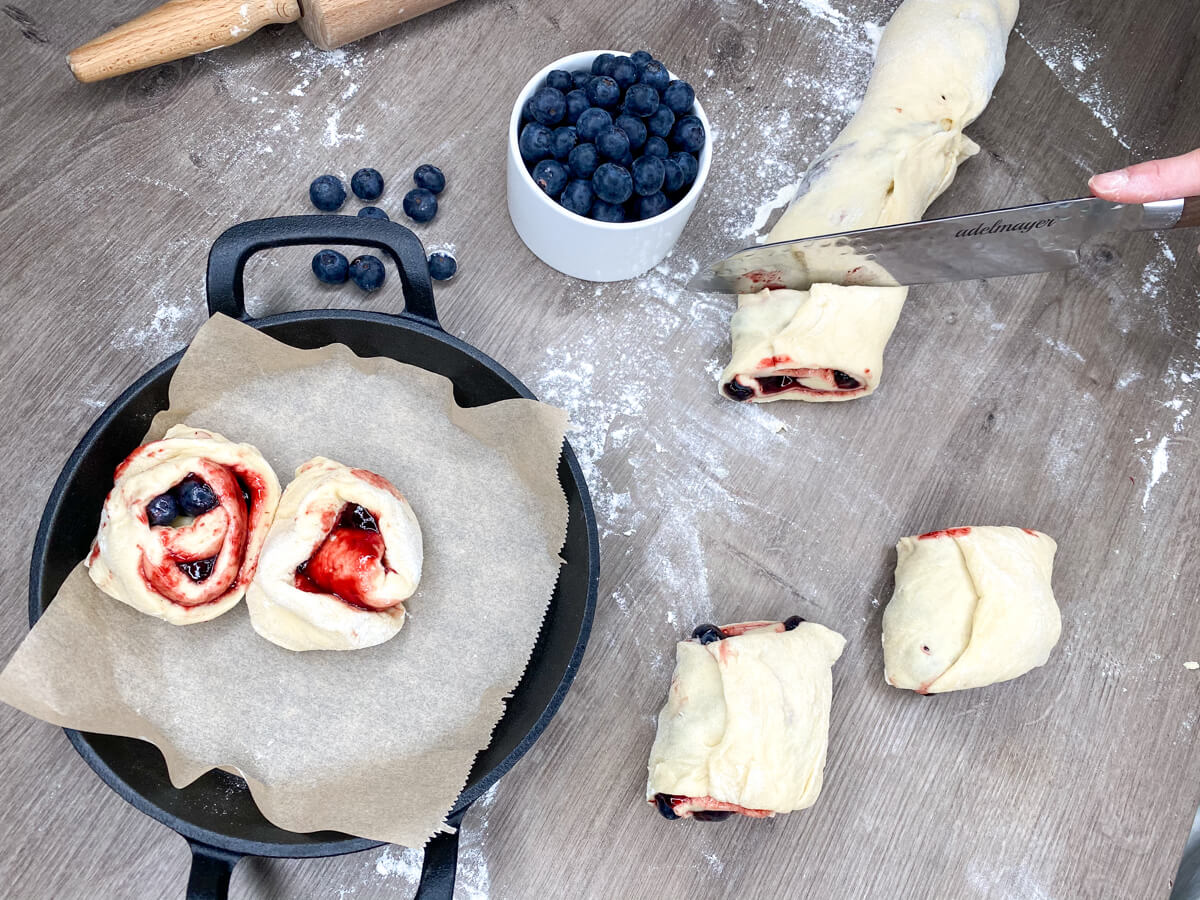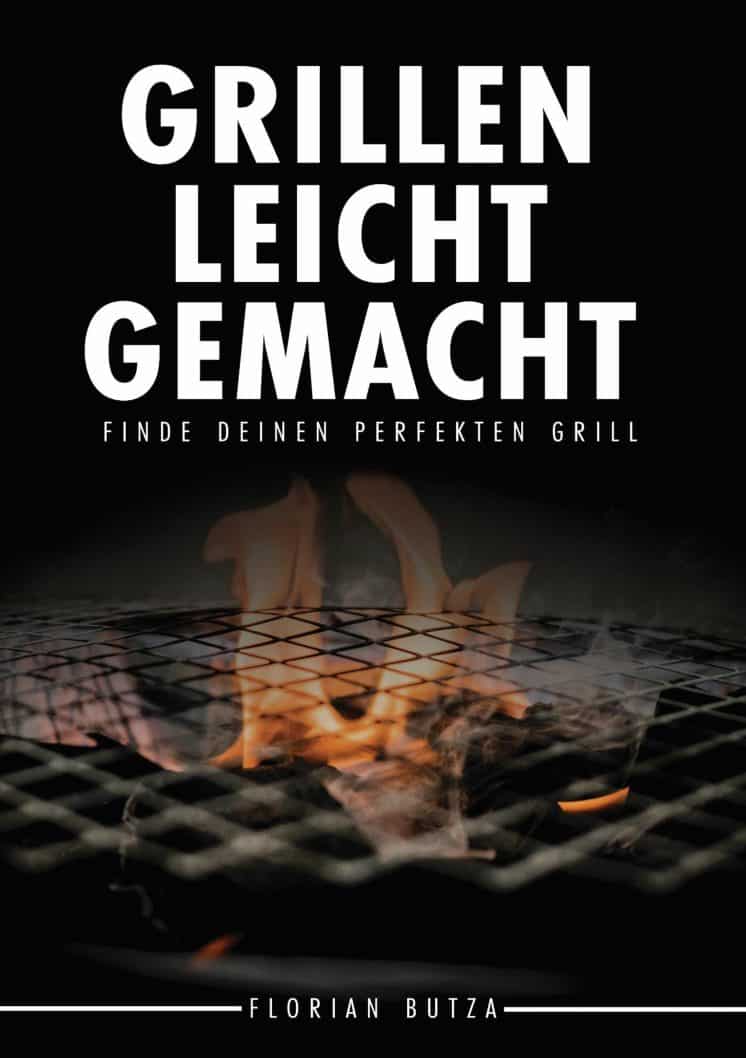 Preparation:
Yeast dough: mix the yeast with the lukewarm milk and sugar and let stand for 10 minutes. Then add the other dough ingredients and knead everything into a nice yeast dough or put in a food processor for 5 minutes.
Let the dough rest for 60 minutes.
Then roll out the dough 25×35 cm and spread with the blueberry jelly.
Then spread the whole blueberries on top and carefully roll up the dough.
Cut the roll into pieces of about 3 cm and place in the cast iron pan or baking dish (line with baking paper beforehand). Then sprinkle with the brown sugar.
Now let the yeast rolls rest, covered, for another 30 minutes.
Preheat the oven (convection 180 degrees) and then bake the yeast snails for about 25 minutes.
Prepare the frosting: mix or thoroughly blend the soft butter with the powdered sugar and cream cheese. (If you like, you can add a tablespoon of lemon juice).
Let the yeast rolls cool a bit and then apply the topping.
Tip: you can vary the filling, berries or fruit as desired.
*** The recipe was created in collaboration with Katrin | Food & BBQ. Feel free to check her out on Instagram and get inspired! ***
Knife: Santoku knife
Have you checked out our blog yet?
Here you can find a small selection of interesting blog posts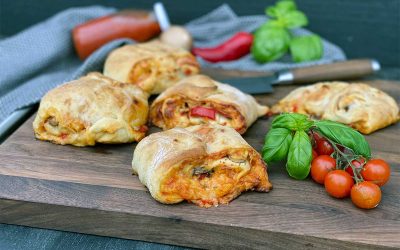 Pizza rolls Preparation time: 20 minutes Baking time: 25-30 minutes Total approx. 2 hours Quantity 7 pieces Ingredients for dough: 400 g pizza flour 1/2 cube yeast 1 tsp sugar 220 ml water 30 ml olive oil 1 tsp salt (Alternatively use a ready-made pizza dough)...
read more