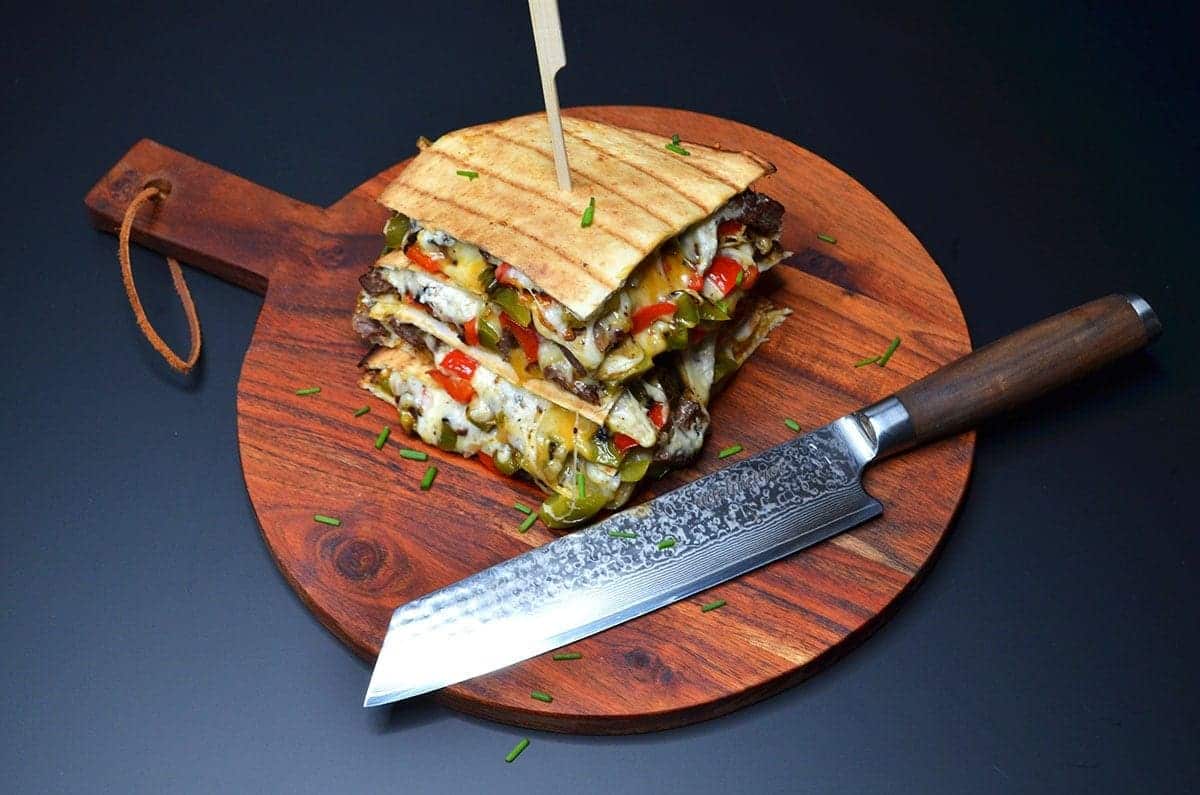 Philly Cheese Steak-Quesadillas
Preparation time: 30-40 minutes
Accessories: cast iron plate/plancha or pan
Cutting board, knife
Ingredients:
approx. 400 g steak (entrecote, ribeye)
1 red bell bell pepper
1 green bell bell pepper
1 red onion
1 white onion
steak pepper
a little salt
150 g Gouda cheese
3 slices of cheddar
creme fraiche
2 corn wraps
some olive oil
… on the grill with a plancha / cast iron plate (but the whole thing works just as well on the stove with a pan)
The perfect knife for this recipe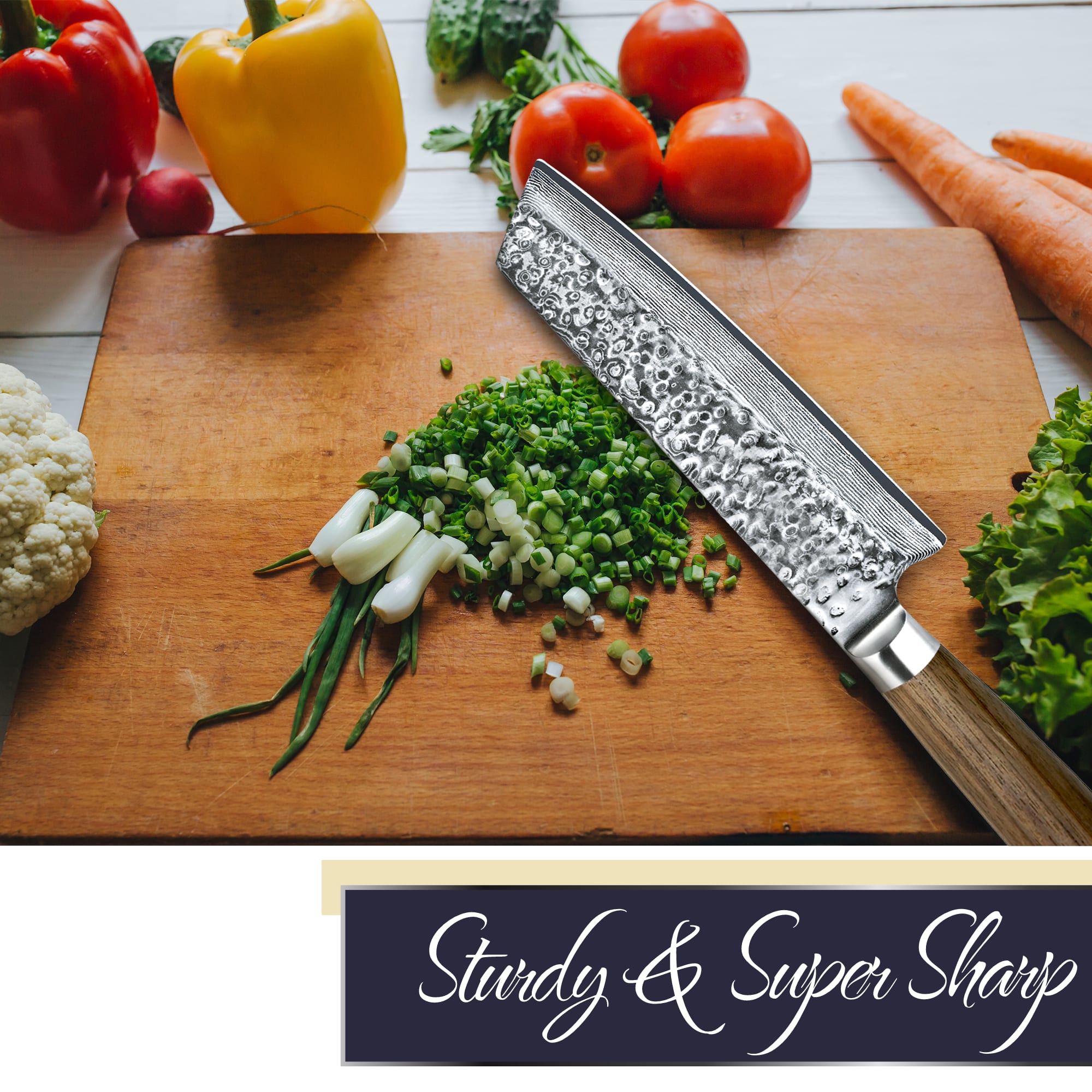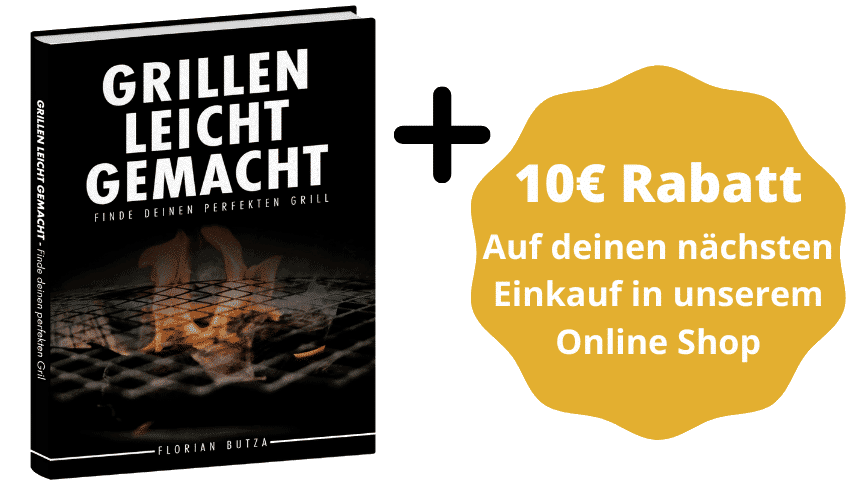 Prepping:
First preheat the grill with a plancha/casting plate and then start the preparation.
Preparation:
Peel the onions and remove the seeds from the peppers. Then cut the onions into rings and the peppers into small pieces.
Cut the steak into thin slices.
Then sauté the onions and peppers with a little oil until translucent on the cooking plate, add salt and set aside for the time being.
Now put the steak or the steak strips on the cooking plate and fry them briefly and season with the steak pepper. (Really only briefly because the steak strips would be quickly through but they still have to be baked with the cheese and get there a few minutes of heat).
The onion-pepper mixture is added and everything is mixed well.
Spread 70 g of the Gouda and the cheddar slices on the mixture. Close the lid of the grill or put a lid on the pan so that the cheese can melt.
Meanwhile, spread the corn wraps with creme fraiche and on one spread the remaining Gouda sprinkle cheese.
Now add the Philly Cheese Steak mixture with the melted cheese on top of the wrap with the cheese and cover with the second wrap.
Remove cast iron skillet and place a grate on top.
The filled wraps are now placed on the grate on the grill (not too hot so that the wraps are only lightly grilled but not burnt). After 4-5 minutes, carefully turn the wrap once and also grill the second side briefly. (If you don't do it on the grill then you can use the pan with lid or the oven for this part, then I would use the whole cheese for gratinating because then it is easier to melt the cheese).
Remove from the grill and cut into quarters. Then stack and fix with a wooden skewer and enjoy.
*** The recipe was created in collaboration with Katrin | Food & BBQ. Feel free to check her out on Instagram and get inspired! ***
Knife: Kiritsuke
Have you checked out our blog yet?
Here you can find a small selection of interesting blog posts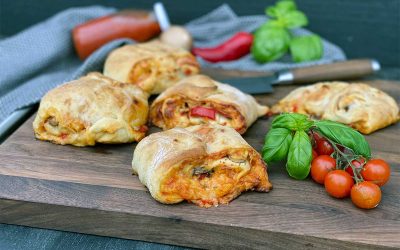 Pizza rolls Preparation time: 20 minutes Baking time: 25-30 minutes Total approx. 2 hours Quantity 7 pieces Ingredients for dough: 400 g pizza flour 1/2 cube yeast 1 tsp sugar 220 ml water 30 ml olive oil 1 tsp salt (Alternatively use a ready-made pizza dough)...
read more